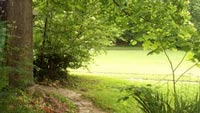 View of the playing field from a shady spot up on the hill.
Pack your sports equipment or borrow some of ours! We have some great games here on the big field at Nottely River Campground.

Here the boys try to decide on football or badminton. Maybe volleyball would be more fun. Just a day in the sunshine is nice!

Bring a kite and some string. If the wind is up there will be lots of excitement before the day is over!

Children have lots of room to play at Nottely River Campground. When you visit, bring along the bicycles and tricycles. Adults may prefer a leisurely walk. There's Jim Bob in his overalls! He is enjoying a stroll around the campground.