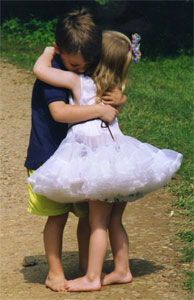 Weddings are a time for hugs.
Love and romance are in the air! Many couples have taken marriage vows at Nottely River Campground. One thing is for sure, the natural lighting makes for great photos.

The group camping area has been the site of many happy gatherings. The stage is a great place for a talent show. Bring your guitars and banjos! No wedding in the near future? Well, this is a perfect place for church groups and scout trips. Come have some fun!